Start your journey to become an sustainability leader!
On the occasion of the ECM conference, we got together with exiting JCI members from all over Europe to create a game with a positive impact on one of the most pressing issues of our time: the climate crisis.
In a thrilling game design workshop, we teamed up to bring you our digital card game with meaningful steps toward a more sustainable future.
Our workshops cover a range of important topics related to sustainability and social responsibility. 
Some highlights include waste reduction and recycling, sustainable agriculture and food systems, energy efficiency and renewable energy, sustainable transportation, water conservation, sustainable business practices, circular economy, green buildings, sustainable procurement, sustainable operations, employee engagement, and carbon footprint reduction. 
In addition, we also cover social equity, community development, health and well-being, education and lifelong learning, and cultural diversity and heritage. By addressing these important topics, we can work towards a more sustainable and equitable future for all.
Explore these Superpowers together with us:
Awareness

Hacking 

Impact others 

Entrepreneurship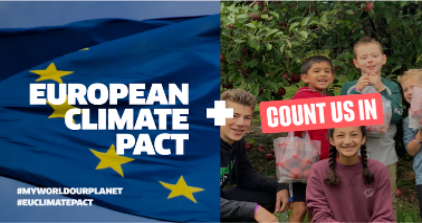 Singleton green was created in collaboration with our partner Count Us In. Through the initiative, we combine Singleton's approach with the goal of making companies more sustainable, step by step, from the inside out. Instead of paying for carbon offsets on the other side of the world, your employees implement the measures directly at their locations.
This is because sustainability interventions that are local and involve the community have been shown to have a high success rate.*
*https://businessleadershiptoday.com/how-important-sustainability-is-to-employees

Employees value sustainability and environmental responsibility from their employers – 80% feel more loyal to their employer if the employer is committed to sustainability.*
*https://www.newlocal.org.uk/publications/communities-climate-change/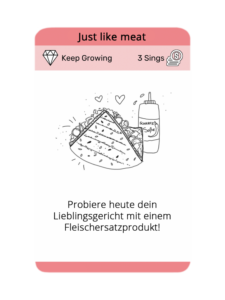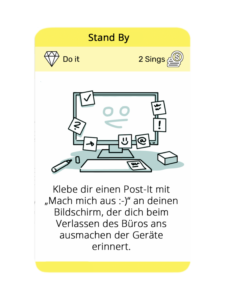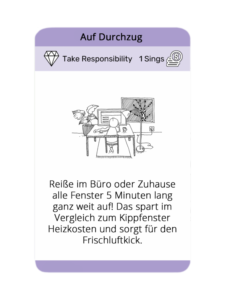 Activate your entire organization in just a few steps, centrally managed in one app
Turn your employees into sustainability ambassadors!

Thank you for participating in our workshop!
At Singleton, we believe in the power of collaboration and gamification to make serious topics engaging and impactful. That's why we teamed up with Junior Chamber International (JCI) members from across Europe to craft the content of your Singleton Green Card deck.


Our journey began in engaging ECM gamification workshops, where every participant became an integral part of the game design process. Now, you get to experience the final product in our app. This is the essence of gamified content – an interactive and immersive experience that sticks with you.

JCI, a non-profit international organization, is at the heart of this initiative. With members in approximately 124 countries, JCI encourages young individuals, aged 18 to 40, to step up as active citizens, contributing to social and economic development, international cooperation, goodwill, and mutual understanding.

Join us in unlocking sustainability and exploring the boundless possibilities of gamified learning with Singleton. Together, we're making a positive impact while having a blast doing it.
Meik is COO at Singleton Change and a passionate game designer. But what brings him the most joy is to show people how easy it is to become a game designer – just by designing time for others.